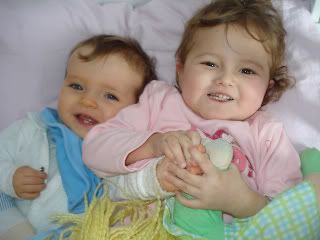 This is Aria and Asher being cute one day last week.  When Aria wakes up I bring in Ashie with me and Aria tells me to put Asher in the bed with her.  Aria was holding Ashie's hand and kissing it and then kissing her Green Dolly's hand (yes that is the name of her fave doll,  Hamish and I are that lame).  You can see in the photo Aria has beautiful dark brown eyes and Asher has these amazing blue eyes, but both have the same colour hair.
These two kids are just awesome.  Not a day goes by when I am not thankful Asher is in our life.  And not a day goes by when I am not thankful Aria is in our life.  I can't imagine being without either of them and I hope I never have to.
10 Responses to "Aria and Asher"
Just caught up on the last two posts. Yay for Aria getting off insulin!!! She looks so grown up in the photo and where did baby Asher go -he is such a big boy now! Pleased you are getting a few hours to yourself, although I know it won't be time spent lying on the couch watching soaps -maybe one day!

What a beautiful photo! They are so gorgeous. It is so nice to see such big smiles.
Hope that things are settling down for your now. Great news that Aria is off the insulin.
Love Steph xxx

This photo has just blown us away! WOW! How beautiful are they???

They are so alike! What a gorgeous photo, you have beautiful children!
Hope that all is going better for you all now, have a wonderful week!

Awwwwwwwwwwwww that photo is sooooooo cute!!!

Aw great photo, they are both amazing kids and you guys are one amazing family I remember watching Aria giving Asher tons of hugs & kisses after the service that time u were at Covenant a couple months ago, was so cute to see

how cute is that photo
it's great the kids get on so well, i love their cheeky smiles

you are blessed
and I LOVE that photo

They are so gorgeous – do they look more like either one of you or a nice mix of both?

Love the photo. Absolutely adorable kids! So cool how they get along and love each other too. Hope you have managed to get back into the swing of 'normal' life and caught up on all the housework. How is that washing machine going anyway!? Hope it is behaving!
Leave a Reply
Support Aria
There are many ways that you can support Aria.
Bank deposit
Cheque by post
Contact us directly
Subscribe to updates
Fundraising progress
Aria's support to date:
Progress meter: 75%