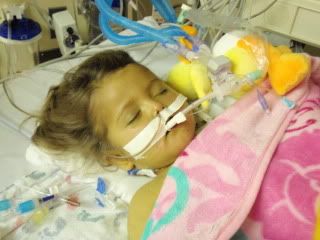 Aria is doing well, bleeding has stopped.  She will wake and open her eyes and make eye contact when the nurses 'mess with her' – their words
She is sleeping just right to be comfortable.
She looks so beautiful to us.  Her body is so busy healing.
We have hope.  We always had hope with or without transplant.  But now we have selfish hope, the hope of keeping our darling girl with us.
Thank you God for answering our prayers.  We cried to you and you heard us.  Blessed be Your Name.
70 Responses to "Sleeping Angel, Sleeping Miracle"
It's so lovely to see her. Thank you for your updates, know that there are so many people thinking of you all.
xxx

Oh, that is a beautiful photo. She looks so peaceful & radiant. Really happy that all is going well. Continually thinking of you all and checking in to see how Aria is going. Take care. xx

Beautiful picture – so wonderful to hear she is sleeping (mostly) peacefully and starting to undergo that necessary healing.

Always in my thoughts xxx

Sheryl

How beautiful and peaceful she looks. Bless her. Wonderful update thank you

A gorgeous photo of a very precious little girl! Thank you so much for sharing it with us.

Still sending you so many prayers & the family that has given you this amazing gift is still very much in our thoughts.

Sending you all lots of healing & love.

xxx

Oh, she really does look good Anita and Hamish. Just beautiful, fresh new hope and promise.

What a beautiful sight!

sending love as always, beautiful, just beautiful x

ALEILUIA …. BLESSED BE THE NAME OF THE LORD…. aww aria looks beautiful, fresh new hope and promise

She IS beautiful!!!! Praying, praying, praying…..

Wow! She looks SO great! Praise the Lord. What a beauty.

She is just so beautiful! Thank you for posting this picture. God love her

Lots of healing thoughts for a speedy recovery. She's a beautiful tough cookie. Keep strong. xoxo

You are right Anita. She is beautiful! Tears, of all sorts of emotions are in my eyes, but tears are there of the recognition of the beauty of this child who is Aria.

amen to that, Aria is very beautiful,God Bless her and you all, and still praying for you all, big hugs, thats not selfish hope that is love which we all have for our children ..

So lovely to see her looking so peaceful. You guys have done a great (and HUGE) job and I am so glad you finally have what you've been waiting so long for.

Beautiful to see! Praying for her healing now. Lots of love.

How beautiful she is – how wonderful god is – Hugs

We have everything crossed for Aria here!! It's soo hard to see such a gorgeous wee girl with so many things coming out of her, hopefully she won't have to endure that for very long .xx

Our God is an awesome God! Everyone stood stock still this morning after the service as Pastor Pete read out your text. What a beautiful photo of Aria, she truly looks like an angel here on earth. Your family is so inspiring and such a wonderful testimony to our Heavenly Father.

Thanks for the picture she looks peaceful and beautiful and healing is taking place. Praying for you all and especially Aria.lots of love

I have only recently become aware and started following your story, but I feel like I've known you for a long time. God bless to you, Hamish, your wonderful little boy and your beautiful little angel Aria I have been praying and will continue to do so. You all have amazing strength, love and passion and you are a truly amazing family. You should all be very proud of yourselves. Wishing Aria a speedy recovery xxoo

Wonderful photo, Aria is beautiful. Thanks so much for the updates. Still firmly in our thoughts.

Aria looks so restful in that photo, you are all in our prayers xxx Thank you Lord for the work you have done in Aria's life, and the blessing she is to her family and all who follow her story.

She is so beautiful. New life already shines through her. Thank You, Lord!!!! Continuing to pray…
In His love,
Carolyn O'Cain

Awesome, awesome stuff, in the truest sense of the word. Love you guys so much, you are never far from my thoughts.

Ali xoxo

Thank you for posting a photo of Aria, she looks so peaceful so beautiful. Wishing her a speedy recovery.

hi its thomas just want to ceck in with you guys to see if aria is felling a lot better than before

see you guys soon
love,Thomas xoxox

So beautiful to see her. What a treasure! Lovely to speak to you Anita – you are inspiring! With prayers of thanks for all He has done in the past 24 hours and for His strength and healing to sustain you all in the hours to come…. Much love my friend

wow. it really is a miracle what happened today. It really is a blessing. it has been a rough winter for you and your family. you have been in our thoughts and prayers. i have told my friends about aria and they have sent there blessings and i asked the pastor at the church up the road from us to put a prayer in the bulletin. It is great she has made it and i hope she stays strong.
thinking of you,
lots of love,

Daniel (Fran's son) xxoo

P.S. mum and dad are hoping to see you tomorrow.

Lovely to see a picture – thankyou so much for sharing this all with us!
She does look less yellow already!
Wishing her (and you) a restful night of peaceful sleep and healing.

A picture is worth 1000 words. Thank you Jesus.

Beautiful picture of her, she looks so peaceful and already looks so much better, praise God thanks so much for keeping us all in the loop

Awww bless her heart, she is just precious, we are hoping to see you tomorrow xx You have all our family back home in London sending their love and prayers xxxxx

Oh My God! She is so beautiful and so peaceful – this is such a perfect 'new start' picture! Well done Anita and Ham! I am so full of admiration for you both.

thank you for the update Anita and Hamish…. just an update on our side… i shared Aria's story with the congregation this morning, our entire church prayed for her and for the two of you for strength and guidance and wisdom during this time, at the same time giving praise to God for this wonderful gift of life!!

we love you very much and look fwd to reading your next update!
all our love
Tom Price Baptist Church
Pilbara Region, Western Australia

Praise God for this amazing miracle. She looks absolutely beautiful.

Thank you for posting the beautiful picture of the little miracle child. We praise God for His goodness and continue to keep all of you in our prayers.

YAY! Go Aria! We love you so much and are rooting for you girly. Take care, keep us posted. xxx

Just so amazing, what a priviledge to see this miracle. Thank you so much for all your communications. We keep praying for you all.

shes so beautiful and peaceful

continuing to pray

Praise Be to God in the highest! We all have certainly witnessed another one of his great Miracles! Aria looks so beautiful, peaceful and brave….what a fighter Certainly has that fighting spirit like her mummy and daddy. Thankyou Thankyou LORD. We are all SOOOOO Happy, excited and wait with you guys in anticipation as we join you in the journey of healing and life to come. Lots and lots of love and prayers xxx

Beautiful beautiful beautiful child.

How thrilled we all are to read of more good news. We are rejoicing along with you, so pleased that God's plans were also what we all dreamed for you too darling girl.

Always in my thoughts and have thanked the good Lord for his blessings upon you all and for the gift he has given Aria….. now to pray for a speedy recovery, so all of you can live a life free of pain xxxx

Lovely, peaceful photo…enjoy the blessings of the days ahead.

McLays

thank you for keeping the postings up- I am constantly going to my computer to see if there is any news. she does look beautiful

That beautiful picture makes me smile every time I look at it.

I have been following Aria for a little while now. She is such a little fighter. Love the pic! Sending love and prayers from Australia.
Keep up the good fight Aria. xxxooo

She is beautiful! My 3 and 5 year old girls prayed for Aria this morning whilst we checked your blog. I've been reading a Kathryn Kulman book "God can do it" and we just know that HE CAN! May you all continue to experience His peace and strength this week.

She already looks better not so jaundised keep up the great work everyone.

Awesome to see your sleeping beauty. wishing you all well in the recovery process, will continue to follow closely xx

Wow what a beautiful picture of beautiful Aria looking so peaceful and lovely. What an awesome God we have! Blessed be His name indeed! Praise Jesus!

She does indeed look like a little sleeping angel! What a blessing and what a miracle!

I wonder how many views this site has had lately! I keep coming back to see her beautiful face!!

Aria looks so peaceful. Its really wonderful to see her so well after all we've been hearing. Mum & Dad say hi and get well soons to Aria. Keep safe Guys….

Thinking of you guys all the time. So glad to see Aria sleeping peacfully. She certainly is an Angel. God Bless you all.

I am so excited. I hadn't checked in for about the last 24 hours, and to read the amazing news was incredible! I have been almost in tears, reading all the beautiful wishes and prayers everyone has been sending across the miles to Aria (and yes, I think of her as 'our girl' too, as a previous poster said – obviously not in a possessive way, but only in the sense that we are all united in praying for her).
Also my Mum, an ex-nurse, was so pleased to hear the news – she knows I have been following your progress, so when she rang tonight I told her Aria had had her transplant, and she was so pleased.
God, thank you so much for the gift of life for Aria. May you put your loving arms around the MacDonald's tonight. I pray you will also comfort the family of the little child who has died. Hold them in your hands, Lord, and bless them for making the brave decision that has allowed Aria to live.
Aria (a beautiful name for a beautiful girl), may you continue to rest and get stronger every day. We are all with you, little girl. Praying for a speedy recovery, and best wishes also to Mum, Dad and Asher. Rest easy, sweetheart, I pray that soon you'll be up and about and giving everyone a run for their money! xxx.

Praise the Lord for He is good!! Love the photo of your Angel.Praying for a quick recovery.
Yours in Christ, Judy.

Just brilliant news.
May all continue to go real smoothly now, so you can get on with the rest of the healing, and so Aria can regain her strength and have some big FUN!!!

Wow! I haven't checked your posts for a few days and am so happy to learn Aria has had a transplant. Of course, it's a very sad time for another family and it's so like the MacDonalds to keep this family in their thoughts. Wishing Aria all the very best for her post-operative recovery and her body's acceptance of the organs. She really is a sleeping beauty.

God bless the family who made the call to donate their child's organs. Organ donors and their families ROCK! Tears of joy here for Aria. I am totally amazed to see the change in her face already compared with photos of her at Christmas thank you so much for sharing. Praying for a wonderful recovery for Aria.

Gloria a Dios! To God be the glory! Doctorsand surgeons do marvels but only God heals! Aria is totally Yours dear Father.

me again ,just want to check in

love, Thomas xoxoxox

I think she looks beautiful! I think she looks a tad less yellow too! Praise god that she got through the operation okay! I pray that he would continue to heal her!

Praise God.. we are all so happy, love to you all xx

[...] Aria received her gift of life on the 6th of Feb.   What an amazing gift [...]

My brother recommended I might like this blog. He was totally right. This post truly made my day. You can not imagine simply how much time I had spent for this info! Thanks!

Very nice article and straight to the point. I am not sure if this is actually the best place to ask but do you guys have any ideea where to get some professional writers? Thanks in advance

I simply wanted to construct a message so as to express gratitude to you for those marvelous information you are showing on this site. My particularly long internet research has at the end been compensated with useful concept to go over with my good friends. I would admit that many of us visitors are undoubtedly lucky to be in a fine site with so many brilliant professionals with useful methods. I feel quite fortunate to have come across your web page and look forward to many more thrilling moments reading here. Thanks once again for all the details.

My friend encouraged I'd quite possibly in particular this blog. He or she was previously solely appropriate. The following submit actually. made my day time. It is easy to not necessarily consider the best way a lot. time frame I had used due to this information! Thank you!
Leave a Reply
Support Aria
There are many ways that you can support Aria.
Bank deposit
Cheque by post
Contact us directly
Subscribe to updates
Fundraising progress
Aria's support to date:
Progress meter: 75%