Psalm 30: 2-3
O LORD my God, I called to you for help
and you healed Aria.
O LORD, you brought her up from the grave
you spared me from going down into the pit.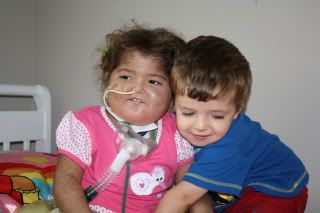 Psalm 30:11-12
You turned my mourning into dancing;
you removed my sackcloth and clothed me with joy,
that my heart may sing to you and not be silent.
O LORD my God, I will give you thanks forever.
93 Responses to "Aria is HOME!!!!!"
Wonderful news! So happy for all of you, good luck with the next chapter of this story.

Just showed the kids the photo and they are doing happy dances around the house and garden…

Enjoy being a family all under one roof.

God bless

AWESOME!!!!

WOW!!!!!

Wonderful news. Praise to our Heavenly Father for his goodness. Looking forward to hearing stories of Aria at home. God bless you all.

Praise God!!!

Just showed my foster children the photo of Aria and Asher.. and they are doing little happy dances and wiggles.. We are all soooo happy and are praising the Lord for his Goodness! Praying also for a Guardian Angel to contiune to protect you all as you enjoy your first days at home!

Praise, honor, and glory to the Lord God our Healer! Such wonderful news. Still praying as always. Sending my love to you all.
In His great love,
Carolyn O'Cain

BEST NEWS EVER Way to go Aria

Yahhoooooooooooooooooooooooo-need i say more?

Yay that is AWESOME news, I can't even imagine how great it must feel to have your family all in one place!! Have fun!!
xx

Wonderful news and what an awesome photo that you have posted.

that is fantastic news … Praise God

Wow, such wonderful awesome news. I have no big enough words xxxx

Awesome!!! Fantastic news!!! What a lovely photo!

Carol has tears of happy joy as we read your praises to our God for His wonderful gift. We know there will be challenges with being home, but we are oh so glad that your family can be together. And we are excited that Nana and Poppa are there to share in your joy. May God continue to heal and bless. CWB

PTL

So VERY pleased for you all. You deserve to be together in your OWN space! xo

Jumping with joy for you all!

Erin, Ben and Blaise

wahooooooooooooooo so happy for you all

I don't have any words to say, just an overwhelming sense of awe at our amazing God. xxxx

So fantastic. Tears of joy here.

Hooray Hooray Hooray!!!! So so so so thrilled for you all, and especially for Aria! How nice to be home with you all, and so nice for her and Asher to be together again. Hoping for great days and nights to follow. Lots of love to you all xxx

I'm so happy for you guys! Wishing you as uneventful first few days as possible.

This is the best news ever!!

Brilliant – God is so good!
In Christ
The Bracefields

Best news for long time. No "events" to happen to hurt a happy house and family!

Pictures say a million words, and the verse says the rest. Praise the Lord! We are so so happy for you!

Wow awesome. Aria looks so beautiful. Thank you God indeed!

wonderful!!!

absolutely a miracle!!! A priceless moment, a future bright with love and laughter

Fantastic! Must be a wonderful feeling to have the whole family finally sleeping under the same roof! All praise to God!

oh……yea yea yea yea yea. What a sweet picture. We're so happy for you guys! Praise God!

Now that picture really got the tears of joy going.What an awesome team our precious Lord,you and your wonderfull family,and amazing medical staff,not forgeting friends in N.Z and America are.God bless you all.xxxxxxx

Beautiful,beautiful photo. It really does, with your beautiful psalms, say it all. Every body who has come to love this little girl and admire her awe-inspiring parents is rejoicing and thanking God.

What beautiful words indeed one couldn't say it better. My thoughts and prayers are with you god bless you all. Take care and rejoice in this moment.

Aww, sweetest photo ever!! YAY so exciting she is home – praise God for bringing Aria thus far by His grace. There really is no place like home

Praise God!! Lovely photo. Hope everything will continue to go smoothly.

Yay!!!! That's awesome news. Praise God

Woooooohoooooo! That is the best photo and the best post! Praise God from whom all blessings flow. May home life be fantastic for you all. Love you so much xxx

Wonderful News!!

God is so AWESOME!!! I'm so happy that Aria gets to be home, with you, her family!!! God Bless!!!

This news made my day. I've read all your posts, and at last the one I've been hoping for. Wow! Yay! I'm so happy for you!

Best news Ever! Love you guys xxx

Praise God from whom all blessings flow, especially the miracle of healing for Aria. I'm so excited for you. May Christ bless you in the days ahead as Aria gets stronger and stronger.
Judy

Wow wow wow…so so amazing!!!!!! Love the photo….love you guys! God is AWESOME xo

Wow!!! That is fantastic news well done your journey has been long but you have Aria home at last. I have a little Angel above who has I'm sure been keeping a little eye on Aria and helping every step of the way. Well done!!!

Amen! Mourning into dancing! Praise You LORD!

We are praising God with you, and will be continuing to pray for you all. What wonderful news!

Praise the Lord. Fantastic news.

Wow! I am so thrilled for you all! Such a steep road to be taking but look how far you have all come. Our love to you all. Karen Orr and Family x

So happy for you all.May the Lord shower His blessings down on you every moment of the day and night.

Tears of joy flowing tonight. Your bible verse says it all. To God be the glory and the faithfulness of
your sweet family.How happy Asher looks to be with his big sister. God bless you all and will keep the prayers coming your way.

That is fantastic! I pray the next weeks and months go smoothly for you all and that before we know it you will be booking those flights back to NZ.

Heh, you won't know what to do with yourselves.

Great news, the answer to many prayers.

this is a true miracle and shows gods work – you are an awesome family and soooooo strong. All our lve and blessings as you enjoy family life without hospital constraints.xxxx

This is the most beautiful thing in the world – to see your gorgeous girl home with you and healing love love love this xxx

Great news

What more can be said. Rejoicing with much praise to our mighty God for all His goodness and faithfulness. He indeed has carried yhour through and will continue to carry you with whatever comes. So glad that Bob and Christine are with you sharing in your joy and helping with this next stage. What awesome timing.

Exellent news so happy for yous all

Hurray! I just knew it would happen! What amazing and wonderful news! I'm soooooooooooooooo happy for you all! Wow! She's such a fighter! Enjoy, enjoy, enjoy!

Just want to make our mark on this remarkable journey!! we are cheering for you, praying for details and planning play dates!!

Congratulations…she did it.
A precious & priceless photo to mark this extra special milestone in her journey.

Tears of joy & dancing with you.
How special for Nana & Poppa to be there to share this great moment with you.

Blessings to you all

Excuse while I wipe the tears of happiness from my eye. Sensational news

wow! great news

Beautiful readings to mark such a wonderful day for your family!!!

Woo hoo! Hope it is wonderful to be under the same roof again MacDonald family! xx Love the photo

Wow that is wonderful!! I'm sure Aria will adapt to her new surroundings quickly and will love it. Hope you two can sleep though – always a bit of an anxious time when you're first home but you know all your medical team is close by. Best wishes for a great family time.

This is such wonderful news — What a lovely photo too xoxo

Word Fail!!!! W E L C O M E H O M E ARIA. fanastic.!!!!!

Brilliant, The new chapter in your lives begins, best wishes to your beautiful futures

So jolly awesome! Praise you Lord. We will all keep praying for you guys as you adjust to being away from hospital and being all together again.

So very happy for you!! Gorgeous piccie of togetherness.

That is so fantastic! Congratulations to you all. It is so wonderful you can sleep together as a family now. Thank you for sharing that lovely photo of Aria and Asher. God Bless
Lisa

Amazing photo. May God continue to hold you in the palm of His hand as you experience life as a family united under one roof at last.

That is fantastic news!! All the best for this next stage for you all

Dancing and rejoicing with you all!! Praise God for answering our prayers. What a beautiful photo. Love the Verheijs xx

Wonderful! A family together. Lovely photo.

Wonderful news!!!!! so thrilled – what a super God we have – we will pray for the days ahead, as you all seek to settle into a new beginning in familiar surroundings – be blessed and know you are all a blessing to so many others in the nether……. thinking of you all – Webster family

Cool, awesome, fantastic !!! What more can I say……..

So thrilled for you all. May Aria's amazing progress continue.

Amen amen amen!!!!! tears of joy for you all.

So so happy!! Praise the Lord! Bless you guys xx

Congratulations, welcome home little one.

I always love to read the 'comments' or the most as I can get through, BUT today 84, don't think I can manage all those. I think it has all been said, wonderful news, Aria HOME where she belongs.
I continue to send my love, prayers and thanks to our great God. Praise His name.
God bless you all and everyone who has been involved even in the smallest way in this miracle.
Eve

THis IS thE BESt NewS EVER!!! BIg HUgs tO thE WHole FamILY xx

The post we've all been waiting and praying for! God is good — all the time!!

WTG Aria!!! YOU ARE THE BEST!!!

God is so good. Praise His glorious name.

Praise God from whom all blessings flow. Your church family at Tritnity continue to pary for you all. Wonderful full page article on front of South Auckland courier about Aria was a witness to the community. God uses all circumstances to reach the hearts of His people and to draw us to Him. God be praised!!!!

Woop woop! She is one step closer to the moment when I am going to teach her all the dance moves to the Hannah Montana Hoe Down Throwdown!

YAYYYYYYYYYYYYYYYYYYYYYYYYYYYYYYYY! She's HOME! Hallelujah!!

AWESOME NEWS!!! That's fabulous guys, so happy for you all, must be amazing to have all your family under one roof again!! XO
Leave a Reply
Support Aria
There are many ways that you can support Aria.
Bank deposit
Cheque by post
Contact us directly
Subscribe to updates
Fundraising progress
Aria's support to date:
Progress meter: 75%