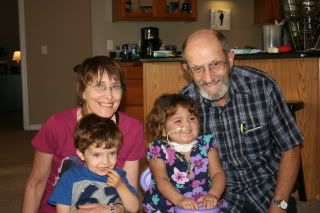 My kids love their grandparents.  We will be sad to see them go.  How about the perfection of God's timing in allowing them to be here for our transition home?
Can you see the smile on Aria's face?  She smiles all the time now for the camera.  We can see her health improving everyday!
Thanks to Bob and Christine for making the sacrifice to come.  And my sister too.  It isn't easy coming into this crazy life that we have been called to lead.   Not sure when the next time will be that we will see them but thanking God for his provision!
29 Responses to "Grandparents"
She is looking great! Those pictures that you've had on here are so wonderful to see! What a great photo and memory! <3

Such a beautiful photo of them all!! and Aria looks incredible! )

what a lovely photo!

Aria looks so fantastic in this photo – such an amzing change in her!!!

You guys! What an absolutely adorable photo. Just gorgeous. Aria looks incredible. Praise the Lord! Thank you for sharing with us. I hope the goodbyes aren't too difficult. Praying for you all the time. Love you.

Thanking god that the grandparents could be there at this time for you guys
Aria looks so happy, as does Asher
Keep up the good work Anita and Hamish, you guys are doing an AWESOME job!!!

It's lovely to see Aria looking so well and that her skin colour looks more like her brothers now. Won't be long before you'll be looking back on all this and feeling like it was ages ago!

That's a really great photo!

What a beautiful photo! Grandparents are such a blessing, most especially in times like these when you need someone to call on who will just be there to take care of you. I treasure my parents for the same reason.

It's so lovely to see that big smile plastered on Aria's face. Praise God for how far she has come.

how nice that the grandparents were able to come over and what good timing it was

LOVE this photo of Aria

Dear Aria, You look much better than before. I think your dress is pretty.
From Candace.

Grandparents are most wonderful people! Keep thinking how great Aria's colour is looking – she is looking so well and happy! xxx

What a beautifull picture.Aria's colour looks much improved,just so more well looking.Two gorgeous Kiwi kid's,what a blessing.THANKYOU LORD.

What a beautiful photo. Aria looks so amazingly well. Grandparents are great, aren't they?!

What a beautiful snap of proud grandparents and happy wee children! Grandparents-well we are very blessed by our little ones and just love to help wherever and whenever we can-so glad your folks could be with you all over there-thanks for the lovley photo you gys! – God bless you further-Jeannie

What a wonderful photo – has a lovely feeling to it. And Miss Aria you look just great.

What a great photo – definitely one to treasure!!

Exellent family photo, Aria looks great, the family look so happy.

Love the photo and all the others on Facebook. Aria looks so happy and well. Hamish's parents have been truly blessed being able to come and help out. I try to help with Grandchildren when I can (I love doing it) so know how they feel. Praying for you all, Judy.

Aw love the photo. Keep smiling Aria, you're so beautiful! Nana and Popa are the best, for sure!

so glad that you could all be together.

You are so generous to us. Thank you for the fantastic photos. Continuing to pray that each day brings a new blessing. Thank you Lord!

What beautiful smiles! thank you for the photos showing lots of progress for Aria and her wonderful supporting family. Praise Papa amen!

Thank you God for this precious family. Love the pics
and the time you take to share.

I am glad that you had such a wonderful time with them! The smile on Aria's face is priceless! Great picture! God Bless!

What precious photos on FB – can really see Aria looking like her Mummy! Thanks for sharing them. X

We feel priveleged to be able to share through the photos. Aria, you have a lot to smile about. Jesus loves you and your family loves you and so do we! xxxxxxxxxxxx Keep smiling! (How pretty your hair looks!)Please give Ashie a kiss for us to him and Ashie please kiss Aria for us OK?

Aria just keeps looking better and better – what a lovely photo
Leave a Reply
Support Aria
There are many ways that you can support Aria.
Bank deposit
Cheque by post
Contact us directly
Subscribe to updates
Fundraising progress
Aria's support to date:
Progress meter: 75%