Aria – a true inspiration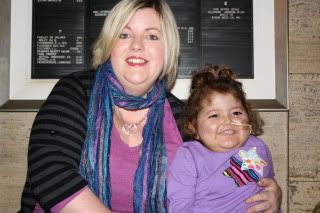 Dear readers, I hope you don't mind me taking over the Blog for a few moments.
I am the infamous Dr E. I have looked after Aria and her family since she was a few weeks old. We have shared some real highs and some terrible lows during that time but we have always worked together to achieve the best for Aria. Our common goal was always to get her transplanted so she could enjoy a better quality of life – one where she ate and enjoyed food as her only source of nutrition. The challenges for achieving this were not straightforward and at times almost overwhelming - no intestinal transplant programme anywhere close to home; getting the timing right; having to ask both the government and charities for funding; striving to keep her as well as possible while we tackled all of these hurdles.
Well, all of those things have come together and she has now been transplanted (albeit twice). It has been a huge honour for me to spend some time with the MacDonald family this week. The last year has been awful for all concerned and I really can't imagine how terrible it must have been for Anita, Hamish, Asher and their extended families. However Aria has now come out the other side and the fantastic news is that she is looking great! I had imagined I might arrive here to find a withdrawn little girl who was not very mobile or interactive, with oxygen, tube feeding and heaps of medications but the truth is far from it. Although she does have some tube feeding, a minimal amount of oxygen at night and a small heap of medications, she is chatty, funny, hilarious, comical, endearing, entertaining and she eats – LOTS. I have worked with children like Aria for many years and have never been so impressed by the amount she is eating only a few weeks after her discharge from hospital. Anita and Hamish very generously cooked for me one evening and Aria positively devoured the meal. She started with home-baked nachos with guacamole and boy, she was not giving them up until she's nibbled each and every one. Then she tackled a chicken drumstick, as we all joked, cavewoman-style – here was Aria "Wilma Flintstone" MacDonald holding her drumstick aloft and chomping on it (a photo will follow as soon as I get back to NZ)! OK, so she still has a way to go to a complete recovery but even in the few short days I was with her I witnessed new achievements and an increasing sparkle within her every day. The hard work will continue for the next few months and then she will be ready to come home to New Zealand. There were times when this seemed unimaginable but now it is really something to look forward to.
Aria and the whole MacDonald family never fail to impress me. Their love and strength as a family, a couple, parents and a brother is palpable. But it is Aria's strengths which are particularly special. To see this gorgeous little girl eating and enjoying her food has been truly special for me. It has been a pleasure and privilege to be her doctor all these years. As I leave the US for New Zealand, I feel a deep sense of admiration for Anita, Hamish and Asher and a huge degree of inspiration from Aria. Thank you MacDonald family for looking after me these last few days and for allowing me such a personal insight into your every day family life.
34 Responses to "A VERY special guest post."
WOW… we just count our blessings that we were able to meet and become friends with one brill family xxxx

What a blessing this visit was possible. We here in the USA who have never met this family in person but feel like we know them thru this blog have been amazed at their strength and faith and so happy to have been able to share this long journey that Aria has taken.Thank you for sharing and may Aria continue to amaze us all.
God is so good.

Dr. E,
Thank you! Thank you for caring so well for Aria, and undoubtedly her entire family! Thank you for taking the time to visit us, and for taking the time to post!!

My son Joshua also has HD, though not nearly as severe as Aria — it is medical professionals such as yourself without whose devotion, he (and all others like him and Aria) would never have come so far!

God Bless!

And thank YOU, Dr. Evans, for seeing "beyond" the intitial diagnosis for Aria and helping her to get to the US! We also have been blessed tremendously in knowing the MacDonalds and seeing their faith in action! Praise God for his guidance for you and for all who helped Aria. She indeed is a very special girl!

Aria certainly has come forward in leaps and bounds, simply an amazing story. Still just take one day at a time………..

Thinking it over Aria feels she has many meals to catch up! I remember when we visited you in Auckland how there was always a meal on Aria's plate and she was never treated differently. That wise treatment is paying off now! Her tastebuds have woken up well and truly and she just has to enjoy for herself what she has witnessed others enjoying for so long! Great work MacDonald family!

What a wonderful tribute to Aria and you guys! Thank you to that lovely lady for sharing her excitement and joy in her dealings with Aria and the family in this amazing journey. It is almost unbelieveable that Aria has triumphed in so much for suuch a little girl but HEY! We have an AMAZING God! Praise God and praise God and praise God! – Jeannie

Lovely lovely post!! Reading aloud to my husband had to work hard to keep the 'wobbles' out of my voice!! So thrilled for you guys – so thrilled for Aria.

wow what a beautiful story
Yes Dr E you are right this family are truly inspirational. They have given hope through their struggles and strength to many families back here in New Zealand. Little Aria is AMAZING. Thankyou to you all for having the courage to share so publicly your journey, trials, tribulations, and triumphs.
All our love, prayers and blessings, and Thank you.

Wow. Just Wow.

How special for all of you to be able to have these few days together. It must be hard for the medical teams to watch and help thru the struggles of families like yours- and to see the good fruits of those hard times- must be a great joy. What a wonderful photo!

Thank you Dr E for everything you have done! We could quite possibly not have our truly inspirational little Aria if it wasn't for your dedication, expertise and care. You are right, this is one amazing family!

Dr E you show what NZ people are all about…..caring….how many other Docs would take time out of their busy schedule, to visit a patient in another country.
I watched ATTITUDE on TV 1 this morning and the follow up on Aria's story is showing next Sunday (26 September) at 8.30am.NZ time.

Hear Hear, well said! I think I read the whole post in Helen's accent too! Full credit to you too Helen for taking a shattered family under your wing and showing them a future for Aria after it had been taken from them. You coached them knowing how difficult the journey would be (maybe even more difficult than you would even imagine) and I know you share in their utter joy at having Aria in recovery on the other side! You Rock MacDonalds!

Thanks Dr E! I think you are amazing as I do Aria, Anita, Ham and Ash.

Dr E, so lovely to read your thoughts especially when you have been such a key part of Aria's (and Anita, Hamish & Asher) journey thus far. It must have such a special time for you to get to see Aria post-transplant and spend time with her, Anita, Hamish and Asher It is truly amazing how well Aria has progressing Safe travels back to NZ!

Ditto Samantha – what a delightful post!

Awesome update!!!!!
How special to have Dr E come all the way from NZ just to see one very special little girl, and her just as special family! xxx

Thank you Dr. E for your delightful post. I live in Christchurch and have followed Aria's story for about a year now, and have found the whole MacDonald family an inspiration. Thank you to the Roberts family for the info on Attitude program. I will record it to watch after Church.
Judy.

Thankyou Dr E for this post, we would like to thank you so much for
giving Hamish and Anita hope after the initial diagnosis and for never giving up on getting everything organised for them to get to the US and for Aria to have her transplants. Aria is one determined and amazing wee granddaughter and Hamish, Anita and Ashie are one very inspirational family along with Aria of course.
Thank you and all those at Starship and UNMC PICU and others at UNMC who have done everything possible to give Aria this chance with such an awesome outcome. Praise God!! Safe travels home
Nana and Poppa

Dr E, thank you for all you have done for the MacDonald family – most importantly in giving them hope. You are truly an amazing Dr. I wish there were more like you!

A VERY SPECIAL GUEST INDEED.
Home visits by Docs are now very rare here, BUT for a home visit across the world is unheard of until NOW. This surely has to be a first, & maybe the only! What an amazing event. Hard to even imagine the joy & emotions at the point you all set eyes on each other.

A special Dr for a special patient & family.

Helen, how long did it take you to read thru 9mths of medical notes??!!!

How lovely for Aria to see her favourite Doc again & both 'on the other side of the bed' TOGETHER.

A VERY SPECIAL & UNIQUE PRECIOUS TIME FOR ALL

God bless you Dr E for making that special trip to see Aria and family amen.

That's just awesome! What a lovely post.

The McDonalds have been blessed to have as their doctor

How amazing for Dr E. to meet up again with you all and see the wonderful progress Aria has made. God is so faithful – his handiwork is evident before our very eyes in Aria's recovery.

i am so happy that the lovely doctor E has been able to spend some time with aria & the family. that sure was a long distance house call!!

god bless you doc, and safe travel home.

i am looking foward to attitude next week.

How amazing and wonderfulis our God!!! and Dr E!!! Keep up the good work little Aria! You are all such an inspiration!

Dr. E, thank you for doing all you have done to help save Aria's life! I have never met the McDonald family in person, but I have come to know them & love through this blog. Aria has been such a brave little girl, that her strength still amazes me! She has come a long way with your help. I'm glad that Aria had a great doctor like you! By the looks from the picture above, Aria was mighty happy to see you. God Bless!

Yes, Truly a very special guest! It is so great Helen was able to spend quality time with you, enjoying a WELL Aria – oh how different to when she last saw you. Wonderful, heart warming reading and I hope Dr E also managed to squeeze in some time at some malls to buy some more funky shoes and jewellery to brighten 26B with! Love to all.

Dr E you are awesome. not many docs would go out of there way for a patient. i dont no the macdonald family personally but feel like i have got to know them thru arias blog and watching the attitude program (i havent missed one yet!) but i thank you for looking after miss aria and assisting anita hamish and their families in getting her this far and hopefully on the upward slope back to auckland in a few months time. xx

Aria looks so happy in the photo. What a delight to see her like this and obviously enjoying Dr E being with you. Great blessings are being showered on you now and so they should be after the journey you have had. Long may you be showered with many more blessings. Xxxx

[...] There was a VIP guest post [...]

Touch pad locks, generally known as keyboard, really are one additional way of keyless access. Touchpad (keyless locks) posts possess a flag towards offer admittance to those people. Any pin number will be particular by its man or woman who would like to acquire the entranceway. Sometimes a variety of hooks are useful to safe and sound an identical gate. The best of these kind of versions are the secure along with the keypad all of on one product. The majority of these are constructed from stainless steel and people who are widely-used out of can be water-resistant to halt your deterioration . of your steel as well as deterioration from the engine a natural part of the extender. Several of these locks can be battery powered and come having a power home security system in order to conscientious the particular owner to the reduced life of the battery to prevent yourself from lockouts. Also, all of the touchpad can also be constructed of the keyhole in the event that an individual should outrank the actual code program code entry.
Leave a Reply
Support Aria
There are many ways that you can support Aria.
Bank deposit
Cheque by post
Contact us directly
Subscribe to updates
Fundraising progress
Aria's support to date:
Progress meter: 75%