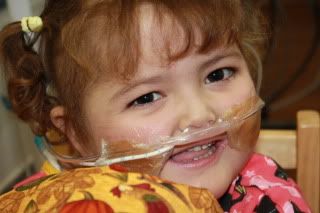 It seems like good day bad day good day bad day.  So today is a good day.  BUT we are hoping we have seen the end of the bad days.  Why?  Because Aria peed off over a litre of fluid yesterday!!  YAHOO.  Finally it seems that this extra fluid that has making it difficult for her to breath is going.  AND she is back on regular O2 and doing great.
In other stink news the sensitivities came back for the puesdomonas  and it is also almost fully resistant.  We are waiting for further tests (which I don't quite understand) but we only have one antibiotic left in our tool box.  So she started that today and there will be a two week course.  So all things being equal and with on other dramas Aria should be discharged the day before Thanksgiving.  We really really hope to celebrate thanksgiving, our first and only, in the US AT HOME.
Everyone seems fairly relaxed about the pusedomonas, no one is panicking or massively concerned.  I think they have decided that now Aria is six months out of transplant and no hint of rejection they can safely lower her dose of immune suppression to pretty low and allow her own immune system to fight it.  Which it must of considering it was in her blood and then disappeared without much of a fuss.
21 Responses to "Progress"
Yay for good days, may they continue and praying you will be home for thanksgiving. Go Aria you are a star!!!

Hello there,

It is so sad that one moment we are so happy to have a gift of God and on the other if something goes wrong with it our whole life is miserable. I myself is going to be 4 months pregnant and had better chances of having a baby girl. I am excited about this name-Aria-that I am definitely going to name my baby, if girl. Amongst the mixed emotions of happiness and fear, I will be worried throughout my pregnancy until I have a healthy baby. I wish your Aria to recover fully and bring joy and happiness to this world. Amen.

Rupali

So thankful for today's news. We just all need more patience and am praying for the good days to stay for Aria.Such a little trooper she is.

lovely pic! xx

Is it really? 6 months now? How fast does time go! Have no idea what Thanksgiving is, but know it is big in the US, sure will be hoping you are all home together for this day!!!
Keep you all in my thoughts as always, totally amazed by Aria every day. She is looking so amazing – such a huge contrast to a year ago! (she was always gorgeous! you know what I mean!!!) Just love the photo!!!
Lots of love to y'all xxxxx

Yay for lots of pee!! May things continue to improve- and may you really sense God's hands under you- as always. He is FAITHFUL

Good girl Aria get rid of all that fluid. Thank you Lord for a Aria's immune system overcoming every nasty germ/infection that may "try" and come upon her. You are Victorious, God has designed you in His image, a Champion!!! Beautiful cheeky picture, love it! xx

What a great update – yay for lots of pee! I will be looking forward to hearing and pics of the Macdonalds Thanksgiving – so much to be thankful for that I wish we had a thanksgiving day here!

Amazing how we rejoyce over lots of Pee. In someone else it would be a concern but not for miss aria. Great report and a wonderful photo of a cheeky wee girl.

Fab to read – gr8 news. X

Fab news & great pic, those little eyes say it all!!! Cheek, mischief, but then that is Aria the one who never fails to pull out a surprise. Love it. She is tops.

Blessings to you all

Amongst other things we prayed for Aria last night was that she would get rid of all this troublesome fluid! Thank you Lord – as always you are SO faithful!!

Thank you for this great update. Praying that good days continue. Love the photo. Blessings to you all and wishing you a great thanksgiving at home. Judy.

Go Aria!

Praise you Lord, great is thy faithfulness amen. Lovely picture of Princess Aria, love you all, we should have this thanksgiving here rather than helloween, enjoy Thanksgiving and tell us the story behind it all – I sort of thought that it is when immigrants (christians or pilgrims) arrived in the New World, use the land and thank God for all His blessings to them in this wonderful new land.

Good news! And lovely to see a photo of a happy, glowy Aria!

Stinks about the puesdomonas being there, but glad to hear that Aria is feeling better. I truly hope you'll be able to celebrate Thanksgiving at your US home! God Bless!

[...] She is as cute as a button. Just wish that P word would go away [...]

I love you as a result of all of your work on this web site. It's been a good generate for me personally. We have passed this kind of onto a buddy associated with my own.

Hi there to every single one, its truly a fastidious for me to pay a quick visit this websiteProgress – Aria MacDonald, it contains priceless Information.

Good post. I learn something totally new and challenging on websites I stumbleupon every
day. It's always helpful to read articles from other authors and use a little something from their web sites.
Leave a Reply
Support Aria
There are many ways that you can support Aria.
Bank deposit
Cheque by post
Contact us directly
Subscribe to updates
Fundraising progress
Aria's support to date:
Progress meter: 75%