Christmas '09
Curly fries and cheeseburgers from the hospital cafe.  The word yuck comes to mind!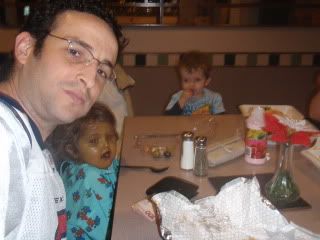 Christmas '10
Roast lamb, garlic and rosemary smashed potatoes, roasted baby carrots and steamed asparagus.  At home!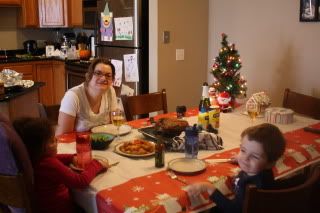 Wish we had gotten a better picture of Aria but you can see how different she looks.  Last year she was dying and this year she is living!
We had a nice day, opened presents and ate way to much!!!
It was coloured with disappointment however.  We were hoping Aria would leap out of bed, full of beans this morning but alas she did not.  All day she was tired and complained of headaches.  We're onto her third dose of pain meds today.  There was such a stark contrast between her and Asher today.  He was full of life and excitement and she was tired and sad and not interested too much in her presents.
So we're a little sad tonight.  Our friend Matisse, whose tenth birthday it is today, is still battling rejection for her new intestine.  Still completely positive that these organs are hers but our hearts hurt for a journey our friends are walking that is far to familiar.
Our hearts are with our donors families and our friends who have lost their children this year.
Oops- this wasn't the merry christmas post I was planning!  Well that is life, it isn't always a box of fluffy ducks but we've got to claim victory for what we do have.
Happy Christmas!
10 Responses to "The tales of two Christmases"
Great to see the big change in Aria in the 2 photos. She has made giant strides in progress, sometimes with a few steps backward, but always advancing again. Thank to our great, big, wonderful God!!!!

I can definitely see the difference a year has made for Aria! She looks SO MUCH better! I wish she felt better though! praying that her meds will help her feel better soon! I will be praying for Matisse, & hoping her journey will get better too! I will pray for all the donor families who have lost kids this year! I pray God will continue to comfort them! I pray & hope that Aria will feel better tomorrow! Merry Christmas, & God Bless!

well done to all of you just to be there where you are today! keep on holding God's hand as tightly as you can-so glad you were all at home enjoying your lovely Xmas dinner-God bless-Jeannie

What a lovely Christmas table compared to the hosp cafe one!!! That alone speaks buckets, even tho you had the tinges of sadness, the transfomation of 12mths is awesome. Never doubt Aria's ability to bounce back & pull these things off eh?? She is a little trooper at jumping all the hurdles put in front of her.

Had to laugh at you saying 'smashed potatoes', wonder if that is our purely kiwi description as we use it often…many might have thought it a typo!!!!!…..Well if it was it was a goodie & speaks volumes to us here at home in kiwiland. Altho you miles away you managed to pull it off pretty dam well to a kiwi xmas dinner to you prob frozen outside while we ate outside!!!!

Well done MacDonalds family you DID IT..hip hip hooray

Ha, oopsie me that had the typo…shd have been…tho you prob frozen while we ate outside hahaha

Christmas is always a time to reflect, look forward, and remember those we love who have passed. I remember loved ones and little ones who have passed with their names on a ball for my tree. Its a little special blessing for them when I place the ornament on my tree and I can remember them whenever I catch a glimpse of the ornament. I ALWAYS remember our donor at Christmas too most strongly because of the season. Glad you had a lovely day and what a difference from last year! Hoping Aria heals a bit more overnight so you can have your bright girl back again.

wow how awesome… can't believe that stuff was all a year ago and that picture i didn't realise aria was so jaundice although i should have with her billirubin being so high, none the less, look at the last year and everything that's happened, and here you are celebrating christmas, with aria alive doin well and at home

well done you guys, congrats, hope it's a special time and still as always praying for little miss aria and for her headache's to be gone

The girls say congratulations on not having hamburgers and chips this Christmas. I say thank you for sharing your life with us this year, the highs and the many lows. To see the contrast in Aria is nothing short of breathtaking – to see how dreadfully ill she was, and now, thanks to generous families who grieve their loss, Aria has life. So glad you were home together, even if not 100%. Much love from here. X

Happy christmas time McDonald family, hope Aria is a lot better today than yesterday. Thank you Papa for helping Aria to be well once and for all, you are creator and you know whats best for Aria; and so we commit her to you today knowing you can make her well amen. Please bless the donor's family and thank you for it takes a double blessing to make Aria much better today, thank you for your double blessings and much more for Aria. Bless Matisse to be healed as well Papa, thank you so much and many others who needs yourloving touch and healing today. Its so true, you are so close to the broken hearted praise the Lord amen. Happy, happy, joyful times for you all Anita, Hamish, Ashe and Princess Aria, love you all, Noa.

Anita and Hamish. I want to affirm you guys for your honest witness of a family stuggling with life yet constantly hanging on to your Heavenly Father. Congratulations and celebrations Aria was at home with the family and you ate REAL Food This time last year Matthew was fighting for his life in 27b Starship. This year we had Christmas and his 5th birthday yesterday at home with him. Thank you Jesus. We'll never know how long the journey will take but we know for certain that Jesus is walking it with us! Love and blessings.
Leave a Reply
Support Aria
There are many ways that you can support Aria.
Bank deposit
Cheque by post
Contact us directly
Subscribe to updates
Fundraising progress
Aria's support to date:
Progress meter: 75%