Wow !!
Aria had a great day today, we are so encouraged.  Lots of playing and sitting up and THREE smiles at different times.  The first time she made herself smile by knocking on the door of her little toy dollhouse.  The second time was skyping with Rebecca and seeing her fave doggies George and Kaylee.  Finally when reading her Winnie the Pooh book and recognizing the little song in the book.
Aria pointed to the stethoscope and put it in her ears and listened to Green Dolly's chest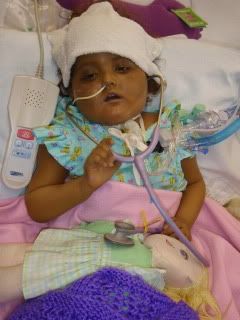 She let me put a bow in her hair and she played with stickers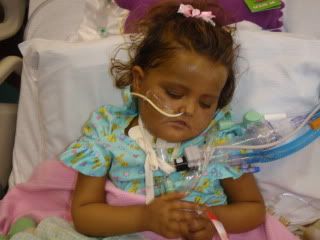 She got out of bed (with lots of help) and sat in the chair for half and hour and played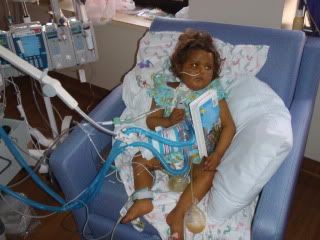 It was such a good day, lots of her personality showing thru and no asking for water.
Also we have good news of the whole Pseudomonas and relisting front.  We have been waiting for cultures to come back from her blood urine and lung junk.  We have been very very concerned that this bug would morph and they wouldn't be able to treat her.  However the urine and blood are clear and the lung junk came back with Pseudomonas BUT it is sensitive to 7 different ABX !  But it isn't causing her trouble so they won't treat it.  To top it off they believe that IF IF IF Aria did culture pseudo in her blood that was fully resistant they still believe they would be able to treat if given the research that is out there on this bug but delivering the ABX in a certain way.
Both the transplant teams and the Infectious Diseases team are being very very aggressive with giving Aria a chance for second organs.  Lots of talking and researching and brain storming.  We so appreciate the fact they are fighting for her like we are.  Still they are honest with us with the possible outcomes good and bad of this second go.
Today we are upbeat and positive and thankful, so very thankful.
43 Responses to "A super great day!"
Great to see the pics she is looking beautiful, (love the bow) and great news about the lack of bugs. Praise God for a good day and the positives. So thankful that the transplant team and Infectious diseases team are fighting for Aria along with you and the rest of us who are praying and upholding you all.

Awesome news about the lack of bugs, will continue to uphold you all in prayer. Thanks for being so diligent in updates.

Aria – you are SUCH a special wee girl. It was so nice to talk to you today…the doggies loved seeing you! We love having you back! 🙂 And of course love even more to see you smile!

P.S. I think the last time I saw Aria with a bow in her hair was on her second birthday! She looks SO cute!

Very cute pic with the bow, thank you for sharing them!! So pleased to hear you have all had a gd day with smiles and gd news that her bugs aren't resistant to all the antibiotics. Its great to hear that the drs are fighting hard for Aria!

Hope your wknd is filled with smiles, Take care xx
Lisa D

Oh so lovely to see the pics – and the smiles I'm sure are a real blessing.

lovely lovely pics – those bright days must be a oasis in the storm – am praying for many more 🙂

That bow is so cute. What a sweetie pie. I am totally blown away by Aria's strength of character to keep persevering, especially with all the frustrating things she is going through. An excellent character trait! Sending cyber hugs…ooooooooooooooooo….xxxxxxxx(and kisses)

so good to hear this news, keep fighting Aria.
Love Coralie

yay ! 🙂 this is happy news, so nice to hear and so hearteneing! Aria's story is in the newspaper here today (The Press) still thinking happy get well thoughts your way

Great to hear such positive report. will keep praying, God is so good.

How good it is to be able to share in your tears – both of sorrow and today, of joy.

Great to see some positive news after yesterday's heartbreak. Lots of love and best wishes

Thanks for the photos of Aria – it's great to see her without a tube in her mouth, even if she still has lots of other tubes! Awesome to see her sitting up and hearing of her smiles. you need special happy times like this – hope you and Ham are well and doing ok too. Always thinking of you – hugs xxxx

good to see things are going well,hope green dolly is a good patient like you Aria,God bless little one,xxxxx

Yay for good days,
I was saddened to hear that Aria is not doing so good, But we all know what a fighter she is and her family also.
Big Love to you all
Your in my thoughts.

Thank god for a better day for you all. Aria you look so sweet with the bow in your hair. All our love and prayers are with you and your family on this long journey. xxx

What a lovely day after the last few difficult ones. Go you guys

Oh what a special blog! So lovely to see her personality shining through. How lovely you got to play with her hair and put a bow in it. Thank you for sharing all this loveliness with us – a special day for the MacD family in Omaha! Much love and continue prayer for Aria, organs and strength for you guys. X S

Beautiful photos!!! So glad today has been a little more positive and so thrilled you have a team on your side fighting for Aria. Thinking of you and Love to you all x

Hello, You do not know me but I have been following your brave family since watching the story of Aria on Attitude. You are all a true inspiration to us all, your unfailing faith and positive attitude and Aria's incredible fighting spirit makes me proud to say we are fellow New Zealanders. Keep up the good fight – Aria is a special little sweetheart – and you are the most amazing parents any child could hope for. Aria and Asher are indeed blessed to have you in their lives. All our prayers and thoughts are with you here in Christchurch.

Great to hear and see photos too. Onwards and upwards and every day is another day! Seems to be more and more positive each day which is so awesome for you all. Hugs all round. Take care xx

praying and am thankful that the transplant teams and the Infectious Diseases teams are wanting to fight too 🙂

God is Good! Today has been a day of great news for so many people regarding their health and I am glad this has been the case for Aria also. How awesome is the ABX news?!?!

What an amazing family you are!! I saw your story on Attitude and have been following the updates since. Aria is such a beautiful little girl. She (and you) must be so incredible strong to go through all of this, I think you are wonderful.

P.S I live in Tauranga with my daughters, we send you all our love and best wishes

Thank God for more positives. Love the pics of Aria, thanks for sharing them with us. Thanks also for keeping us in the loop re Aria's condition. Many prayers for you all,
Judy.

She is so gorgeous! So pleased to hear that you've had a good day and that the teams are really working on your behalf.

Please tell Miss Aria how VERY proud of her we are!! GREAT news!!

Lot's and lot's of love to you, darling little girl. My thoughts are with you and your lovely family.

LOVE that bow! What a sweetheart. So glad you have doctors fighting for you!

if Aria's into wearing hair bows, we may need to drop one off for her, and a matching one for green dolly! So glad she's sitting up and acting more like herself! We're praising God for the little things that are helping you get through each day.

Enjoyed the pics and so happy you had a good day. God sends them mountain tops just when you need them most.Praying for all your needs and more good days with Aria.She looks so precious Thanks

That is such wonderful news! I am so happy that Aria had a good day, & that her tests came back with good news! I'm happy that she has doctors fighting for her! God Bless!

Look at that beautiful little girl! Thank you so much for posting pictures of Aria. It's good to know that they are working on giving her another chance and it's going to be oh so worth it in the end. 😀 Gooooooo Aria!!! 😀

The ladies you met at Thomas have been asking about you all today and are having prayers said for you at their churches this weekend.
The pics just melt my heart xxxx

Yikes I meant to say Thomas school.. blimey
I'm as scatty as whatsits at times xxx
You know me eh…

Aria is a very special well loved little girl. The world is a better place because she is part of it. Bx

my dad had a hair transplant and it was very costly;`"

hair transplants are overly expensive but i can say that the results are great,:*

i think it is expensive to get a hair transplant but the procedure is well worth it ;".

what its like … havin a RONI

Very good post. Made me realize I was totally wrong about this issue. I figure that one learns something new everyday. Mrs Right learned her lesson! Nice, informative website by the way.
Leave a Reply
Support Aria
There are many ways that you can support Aria.
Bank deposit
Cheque by post
Contact us directly
Subscribe to updates
Fundraising progress
Aria's support to date:
Progress meter: 75%