New photos on Aria's FB page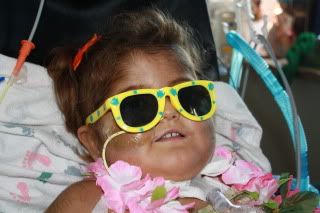 Wow- that last post was the highest commented ever! The posts about funding being granted and the rejection posts got lots too but obviously photos are a great way to communicate!  Thanks for all the great comments and support
Life continues to march on.  Aria had another round of dialysis and they got 1300mls off!  A great result.  She had a break on Saturday and she peed a bit which was encouraging.
Also since she is on full feeds she is allowed to order meals.  Ok so I know what you are thinking- American hospital food- 'vom' as my sister would say.  Actually it is miles better than the slop they serve as Starship.  Ok slop is a harsh word but seriously I wouldn't feed some of that stuff to my cat.  Here it is much like room service at a hotel, you ring with your selections and they deliver within 45 mins to your room.  She has a menu which is fairly extensive including lots of stuff you won't see in a kilometre radius of a govt run hospital like streaky bacon, deep fried chicken strips and lucky charms. She is so excited and we read thru the menu and last night she had mac and cheese and sugar free chocolate instant pudding.  She did try the mac and cheese by licking the sauce but didn't want to try the pudding.
Aria is a busy bee during the day.  She had lots of visitors yesterday from Bridget the music therapist, the preschool lady and Gloria a volunteer who always does fun things with Aria.   Aria did all her preschool activities, charged thru the whole box of goodies AND listened and enjoyed two stories.  45 mins of productive playing and learning.  In between she and I surfed nickjr.com.  We brought her a little wireless mouse, bright pink on clearance at target (guess only 3 year olds want bright pink mice) she happily clicks away.
Yes Aria is still 3 in our minds and hers.  We are going to celebrate her birthday next Monday with her I think.  Hopefully that will give us enough time to plan and organise everything.
I am finding my days in hospital very enjoyable but very hard, dialysis has made it worse.  The sessions are 3 hours and there is a nurse in the room for the full three hours.  This is on top of the RTs checking the vent and doing breathing treatments, pharmacy staff checking the meds, physical therapy, occupational therapy, people checking o2 tanks, cleaners, nurses, doctors, nurse practitioner (3 visiting once a day).  Some of those people Aria knows which is fine.  Others she doesn't.  Some want Aria to wave and say hi.  Aria doesn't- she just wants them to go away.  I feel like someone is watching me, it is like living in a fish tank.  Actually it isn't even a feeling, someone is actually watching me for 3 hours a day.  If I am interacting with Aria I have to field questions at the same time, yes I have an accent, yes the weather is different, yes Aria is cute, yes her eyelashes are long, no she hasn't eaten before, yes she is mad, yes she smiled, yes she wants to be moved (no thanks I will do it).  Often I am having a conservation with a doctor or NP whoever else is in the room decides to chime in.  Or staff members decide to have a conservations about their kids/dog/drive to work with each other while Aria and I are trying to play, loudly too as Americans tend to speak louder.  Honestly all this stuff drives me crazy.  Really all these people mean well and are trying to be friendly.  We love our nurses and some people we look forward to their visit each day and Aria does too but after 6 + months I am over it.  Whinge over.
Oh and GO THE ALL WHITES!
30 Responses to "A new week"
Busy Busy busy, love that Aria gets to choose from a menu. Good that the dialysis is doing the trick with getting the fluids off.
Great that she is enjoying all the activities. You are due a break from all the intrusions, hopefully I can give you that soon.
love & prayers

You are amazing Anita!!

You are amazing for putting up with Hospital life so well for so long. I know myself after 9 months of it, I was ready for a holiday which I couldn't have cos I was home with my boy and husband finally. Love the fact that the food is better than Starship. Always made me wonder how Starship could get kids like Aria and some of the eating disorder children to eat with that 'slop'.
Praying fr contiuned interest in the food for Aria!!! xx

I so get it my friend….. Silence is Golden! Hoping you can get some time carved into your day to be amongst silence. So cool Aria's day is full and interactive and she's doing so well. What about putting putting ear phones in and pretend you can't hear them cos you're listening to an ipod? I tried it in NICU a few times and it did! X

I always look forward to reading your updates on Aria. You are such a strong woman, she is blessed to have you there with her. All the best.

Anita you are such a star. Apart from the latest good news about Aria which is always wonderful to get I love your honesty and sense of humour. Thinking of you all constantly and praying for the day that Aria graduates to outpatient status.

Well you can never grumble that life is boring! And yes a picture is worth a thousand words, but we enjoy your descriptions too.
we both send the four of you lots of love

6 months is a long time to be living in the hospital environment – that was not really a whinge – just an honest opinion of how things are. You have done so well, great parents great kids Was interested to hear about the food at starship.

Great to hear that aria is now able to order her own food. wonderful to hear that she is trying and interested. Go Aria g.
As other have said I truly value your honesty, it gives a true insight into what parents like yourself actually have to go through when you have really sick kiddies in hospital.
I agreeGO THE ALL WHITES.

I am soooooooooooo excited for you guys!!! What an amazing miracle blessing!! I sooooo hope things start to look up from there and here!!!

You guys are awesome!!!!

I have set up a website called Spirit Sparkplugs!

http://www.spiritsparkplugs.com

It helps kids (and adults) fighting hcronic and acute illnesses with packages and gifts!!! I would love to make Aria one! and Anita! I would LOVE to be able to make and send you one of the encouragment and blessing books! You will see them on the website! Dont owrry about filling in the application form but if you just email me then I will get something set up for you to send! I was thinking I could send some pineapple lumps too if you would like??? Just email me at kylee.black@hotmail.com I would be more than happy to get something together! I hope Aria got her Elmo card from my sister as well! Shes such an amazing girl!!!

Love always, Kylee xxx

i never thought of calling starship food "slop" but I don't think the word is too harsh – their food is pretty bad. Good for the hospital cafes though!
Perhaps you need a sign on the wall that reads "shhhh Aria and mummy are trying to play" 🙂

WOW, 99 comments on last post, that is massive…. (and now I have 99 red balloons in my head ugh!!!)
Great to hear things are moving along nicely, aside from the million sets of eyes on you – isn't it always the way though, when you least want to have to listen to someone talking all about themselves or have to field a million questions, they seem to never end….. This is where friends are so wonderful as you just tell em to 'zip it'! Lol, not really, guess friends know you well enough they don't have to ask so much! Not so easy though when you are so far from home, you just cant avoid it I guess…. Keeping you all in my thoughts as always, hang in there 🙂 Love to you all xxx

hee hee hee can't understand what you mean about the food at starship! I always wonder how they want kids to eat and get well when they serve them such tempting morsals! Grateful that you have lovely food choices at your nice private hospital. I love hearing how Aria is doing – she is a little star and just blossoming even with all the interruptions and intrusions. She is still in picu isn't she and not a ward? Mind you, on the ward I had to put up notices on the door to stop interruptions waking Lara every minute of the day. You do need your peace and quiet, for you to just be mum and daughter together even if you are reading and she is playing, to be together in the same room side by side is a treasure and I understand how invasive it can be in hospital. Hang in there look forward to the birthday photos! Yay for the All Whites, my little Jake was super excited cheering them on this morning!

Just rejoicing in the good days you all are having.Praying for outpatient status soon so you can all be together as a family.What a great day that will be.

Hi everyone,
I love hearing your descriptions of American doctors… 🙂 Very gla thins are ticking along and there is lots of food choices to explore.
YAY for the All Whites, Aria and Family!
🙂

Embarrassingly, I wanted (and have) a bright pink mouse too, lol. (Doesn't everyone want those?) Yeah hah for Aria looking so bright though, and I can't imagine what it must be like to live your personal life under the scrutiny of others so much. You'd think those people would be trained to know that their presence would be easier on families doing this 24/7 if it was as unobtrusive as possible?

Is there any way that Aria and you could have a couple of hours a day alone without interruption? Like ask the nurses etc to do all the visiting outside of those hours?

You are amazing Anita. The American trang does take a lot of getting used to. I nearly cried when I came back to NZ and hear the lady at the airport speak Kiwi.

You have waited a long time for your little girl to be able to have these quality times with you. We will all be praying that these happen more and more for you both.

Love Jo

Yay i love hearing that Aria can eat —- AHHHHHH it would drive me nuts too having such a lack of privacy – – and especially having to be pleasant when you don't feel up to it or just want to be relaxed with your wee girl – I want a pink mouse lol —- actually a new puter is needed but that's my story – hope you sleep well and that tomorrow is one step closer to home xoxo

This morning,I showed the children in my Bible in Schools class (5year olds) the latest pictures of Aria. They were so excited for her that she is now beginning to eat. (the class room has one of these smart boards connected to a computer)Then we all prayed for her and for you.
Our love

Again lovely to see photos as they do speak many words. Pls share here the pics that go on FB as I haven't seemed to be able to master FB yet & don't want to miss anything hahaha!! So glad to see Asher alongside Aria to, super great to have both gems together.

Heck don't feed bad abt calling SS food slop as personally I find that word spot on. I'm retired now & not been on wards for awhile but it sounds as tho the food dept hasn't changed!! But hey what's new in a govt hosp??!!! Maybe a good thing I'm retured or I might have had the sack after writing that!!!!

Can also understand your lack of togetherness time as guess I could have been guilty of that to in the past. No not a whinge, again just you giving the true & honest facts they all seem to love &, hey, Anita, I will back you up 100%.

Just so pleased she is able to order from a menu, more steps fwd plus getting those tastebuds going after….shhhh.4yrs! So even if she only licks or eats part of what she orders you, Hamish & Asher can eat the rest (for free!) but at the same time Aria is witnessing that it is ok to eat. Her mind also has to adjust & learn what her little body can NOW do.

Just so happy you have all come this far it is nothing short of a HUGE MIRACLE.

Blessings to you all

Beautiful photos Anita. Thank you so much for sharing. Thank you also for sharing what its really like living in a hospital for so long. I prefer honesty – it makes it more real. My heart, thoughts and prayers are with you always.

First of all let me say I LOVE the sunglasses 🙂

praying will be a special and great day

and praying for the dialysis sessions

Thank you Papa for peace sessions soon when needed by Anita, Aria, Ashe and Hamish. Expect a miracle evryday amene.
lots of love and thank you so much for the great pics of Aria and Ashe, love in Christ, Noa

Thank you so much for the photos on face book. It's so good to see Aria looking so much better and getting some fresh air outside! It helps us when we pray to visualise you all and the hospital surroundings.
I really sympathise with the lack of privacy you have to be a Mum or Dad and the constant interruptions. We will pray for some periods of peace and quiet. All our love.

That is beautiful, she gets to eat from a menu, made my day!! I can't wait until Janessa gets that opportunity after her transplant! Yes us American's do speak really loud LOL

Wow!!what great pics on facebook. Getting the pics just makes this all seem so close to those who do not know you.What a testimony your family has been to so many.God is so Good. You are a precious family with so much faith.

We give thanks to God that you are able to order hospital food now 🙂

Love the first photo – you should put it on the front page!

I love the pics. of Aria! How did she like the mac & cheese? You certainly have a full life with Aria! You must feel like Joseph, or Abraham in a new land! I don't know what that's like, but if it's any consolation, I would be tired of after 6 mos. too! I pray things continue to go well! God Bless!

Zoe actually loved the Starship slop and ate more of that than she did of what I cooked at home. Not sure what that says about my cooking… Love the beach party pics, amazing to think of Aria ordering food to actually eat!

Thanks for providing this awesome blog. Check out my own!
Leave a Reply
Support Aria
There are many ways that you can support Aria.
Bank deposit
Cheque by post
Contact us directly
Subscribe to updates
Fundraising progress
Aria's support to date:
Progress meter: 75%