We dreamed it and today it came true.  We had the best time at the Omaha Childrens Museum.  We are so thankful to them for opening it up for families like ours.
Thank you Lord for blessing us.  We never would of believe we would of been home almost 5 weeks by this date.  You are a Great God!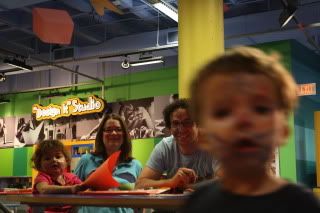 12 Responses to "Dreams come true"
Praise God from Whom all blessings flow!!!
In His great love,
Carolyn O'Cain

OH!!!! How this post did my heart good tonight! I can hardly contain the joy that those precious faces bring to me. I can picture every ounce of that building and LOVE the fact that all 4 of you got to enjoy it TOGETHER!!!!!

Love you!

Perfect peace perfect God perfect love that will not let you go amene!!!!!!Marks sermon sunday was "the great conquering king" etc.
Sending Redeemer family love to you all, keep dreaming they will all come true, the best ones in His will amen amen amen.

oh wow, an adventure together as a family!! looks an awesome place! more piccys please, whether on blog or on facebook.

Awewome, thank you God for Blessing Aria, Ashie, Hamish and Anita and giving them this lovely family outing together. Omaha Childrens museum is a fantastic place. Nice treat for your birthday Ham to enjoy this happy family time. Love the photo
Lots of Love

what lovely news for us to read-you deserve the fun and laughter and family time-not to mention the food and drinks!!!and there will be much more of that in the future according to God's plan for you all-keep smiling and enjoying the great times – God bless-Jeannie

How great is our God!!! This post just speaks volumes of how amazing God is and how Faithfully he is! Glad you all had such a great time!!!

This warms my heart 🙂

HAPPY BIRTHDAY HAMISH! Sorry we are a bit late with the wishes but we are just back from speaking at a weekend retreat. It is after 1 a.m. but we just HAD to open the mail to see what Aria has been up to!! Incredible to see you all out together, and I am sure your hearts are just bursting with thanksgiving! What a birthday treat to look back on!

Very precious to see. Love you guys

What a special birthday gift for Hamish to have his family having a good time together. May God bless you with many more.

That is awesome! I bet both Aria & Asher had a wonderful time! God Bless!
Leave a Reply
Support Aria
There are many ways that you can support Aria.
Bank deposit
Cheque by post
Contact us directly
Subscribe to updates
Fundraising progress
Aria's support to date:
Progress meter: 75%