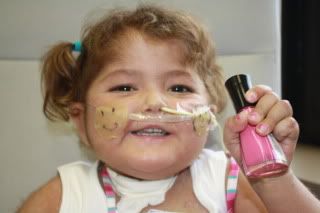 UPDATE
Aria is sleeping and still doing fabulous.  Here is a picture of her trachless and happy about her new nail polish.  Please pray for a restful night for her and I.
Now all four of our immediate family members have celebrated a birthday in the US.  All four of us have celebrated them in hospital.  Stink.
Right now Hamish is in hospital with Aria who is still sitting at 100% on 1/2 litre (a low setting).  He let me come home to get some things and have a rest before I do the night shift tonight.  You see that is the kind of guy Hamish is.  He wanted to spend time with his daughter on his birthday, even in a hospital room AND allowed me to prepare for tonight.  Both done with a cheerful heart because he wanted too.
Hamish has been a father, husband, best friend and pastor to our family during these past difficult months.  His faith in God and his obedience to God's plan and purpose for Aria's life has been unwavering.   Even in our very very darkest moments I saw this.
Happy Birthday Hamish, I hope the next year we spend it on the mountain top rather than the valley.
Aria is full of character and spunk today, which has been a blessing and a trial.  Seems amazing to me for us to be back in PICU and have her yelling and smiling and laughing and fighting.  How many times did I see her lying in that bed lifeless, yellow and on the brink of…….  Well, it is amazing.
How Good is God?  So good that words simply fail me.  Honestly.  We mourned and now we dance.  We cried and now we sing.  She nearly died often and now she lives.  She lives and we live.
25 Responses to "Happy Birthday Hamish"
Happy Birthday Hamish 🙂

😉 🙂 🙂 :-):-) 🙂 🙂 No words just smiles. so good so cool

Happy Birthday Hamish- and may God richly bless you and your family for your faithfulness and obedience

Happy Birthday Hamish – what a God given gift to see Aria well on the road to recovery. God has honoured your faithfulness and obedience. Bless the Lord!

Your words are right on! We have seen you both in ups and downs and know it is only God who has given you the grace to continue. Yet you must make "choices" about your attitude and to honor Hamish on his birthday, I must say that we rarely have seen him in a down mood….tired, yes, but always doing his best to keep a good attitude. You both have supported each other in this journey. May you continue to feel God's grace and love throughout this special US birthday!

Happy Birthday Hamish! Have a wonderful day! Lovely post Anita 🙂 xxx

Happy Birthday, Hamish! (hugs) God is GOOOOOOOD!!! <3

What a lovely message. Happy birthday Hamish. Garrett has told me that he met you all recently while they were out shopping. You are such a great little family.

Happy Birthday Hamish. What a wonderful walk with God you and your family have been on. What a witness you have been to so many of us who have been down and been lifted up thru these blogs and your faith. You may never know how many lives you have touched in such a beautiful way.Aria is truly an angel of God.

Happy birthday Hamish. I'm thinking there is probably nowhere you would have rather spent your birthday, if asked 6 months ago, than with your amazing girl wherever she was, in a state of health where she was full of character, spunky, smiling, laughing and fighting. Everybody who knows your story will be rejoicing and thanking God with you Anita.

Happy birthday to Hamish. Wow, your journey has come so far. It's wonderful to hear how well Aria is and that you are all adjusting to being together as a family again.

How Good is our God!!! What an amazing journey you have had so far!! I pray God leads you to the mountain top!!!

Happy Birthday Hamish you truly are a great father and husband and human being!

Sometimes there are no words for what we feel, our children are everything to us.
Blessings on your birthday Hamish..

Happy Birthday Hamish!!! Glad it was a good day despite being back in the hospital. You are SO right though Anita….LOVED your post!!

Happy Birthday Hamish!!!!! 😀

Wishing you a peaceful birthday Hamish. We are all checking in on Aria's progress and what you and the family are up to. Take Care.

Congratulations Hamish, have a great day!!! God bless you!!!

HAPPY BIRTHDAY HAMISH!!

Well done Aria, you little miracle. Just look how far you have come..simply amazing.
Happy Birthday Hamish, maybe in the hosp but couldn't be a better pressie than to have your little gem trachless. It's the pressie that counts not the place you had to go to get it!!.

Blessings to you all, you are awesome.

Praise God from whom ALL Blessings flow. He has certainly blessed you Hamish with a great birthday present, trach out, o2 stats good, Aria happy and being able to spend quality time with your precious daughter. Lovely blog, Anita.
Judy.

Halleluia, wow, Aria has no trach and she has her colour back. Oh God we praise you so much, Aria looks so beautiful!!!!praise you Papa thank you for bringing her to life even when we know she has everlasting life with you. Thank you Papa, you know whats best for Hamish, Anita, Ashe and especially Aria!!!!she needs to make her own confession of faith in Jesus Christ her Saviour amen!!!!!!
Wow! Hamish you are having a wonderful wonderful birthday with gratefulness to our loving Papa, who is soooo faithful to you. What a wonderful faithful Papa He is eh bro, Happy Birthday!!!!!!

A beautiful post my friend – Aria looks so well, and to be on .5 O2 is really gr8 – we will surely celebrate with you when she doesn't need oxygen anymore!
Happy Birthday Hamish – moving into a new year for you and we do pray it will have many many highlights.

Happy Birthday a day late Hamish! SORRY! Hope it was a great day! That little Aria sure is a precious little thing! So spunky looking and happy! We continue to lift you guys up!

Love,
Tina

I am late – but HAPPY BIRTHDAY HAMISH!

Anita, it is lovely to know you have such a Real Man by your side, one who has a heart for his family and his wife. And vice versa for you Hamish. You guys really are a beautiful family! xx
Leave a Reply
Support Aria
There are many ways that you can support Aria.
Bank deposit
Cheque by post
Contact us directly
Subscribe to updates
Fundraising progress
Aria's support to date:
Progress meter: 75%