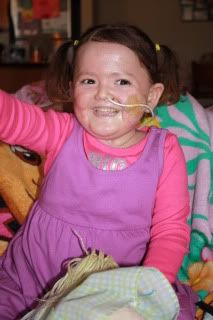 For a while we have been praying that God would heal Aria or that he take her into  His arms for eternity. This morning God chose to take Aria into His arms. She passed peacefully in our arms, gone to be with the one who shed His blood to save her.
We are at peace with this, her five years of life has been one of hardships, struggles, pain, suffering and sorrow; yet we know that she has gone to a place where she need not be bothered by these things any longer.
Revelations 21:3-5 tell us this;
And I heard a loud voice from the throne saying, "Now the dwelling of God is with men, and he will live with them. They will be his people, and God himself will be with them and be their God. He will wipe every tear from their eyes. There will be no more death or mourning or crying or pain, for the old order of things has passed away." He who was seated on the throne said, "I am making everything new!" Then he said, "Write this down, for these words are trustworthy and true."
Today Aria escaped the drama of this earthly life where the ravages of sin took their toll on her, and she passed into the place where God is, perfect in every way, free at last.
Death, that enemy of all, has no power over Aria, for she is free of sin by the sacrifice of Christ. She is joined to Him in His victory over death and His resurrection.
We will long for the day when we see her again, perfect as God intended, and not perfectly broken as she was in this life.
In five years, one little girl has touched so many, and changed so many lives, including our own. God had a work for her to complete in this life and now she has completed it, and goes to the place where God will say to her "well done, my good and faithful servant".
Things are still very fresh and raw for us and we have not begun to plan the days that will follow. Please pray for those plans, for us as a family and for those who wish they could be here for us.
We will let you all know when those plans have been made so you can join us in celebrating Aria's life and the memory of her passing.
319 Responses to "Where, O death, is your victory?"
Goodbye sweet Aria! You have been such a blessing on this earth.

Aria you are free – your memory and life will live on in your wonderful family! Thoughts and prayers for you all during this sad time x

Anita & Hamish What a wonderful example of true Christian lives. Inspite of all the hardships you have held Aria close and suffered her illness with her. Your faith has touched the lives of so many who have known Aria's case. God will reward you in His own way for not only have you followed His command obediently in treating Aria but you have drawn so many so close to Him. In the midst of your grief be consoled that Aria's spirit now soars free from suffering. My daughter did have partial Hirschsprungs disease and she too battled many a course of treatment and surgeries in the early two years of life and I know how captivating it can be to battle with illness. May Aria's legacy live on much after her in her family. May God bless you at this time of deep grief as losing an innocent child is the hardest of all.

RIP Aria MacDonald. Your struggles are now over but you will never be forgotten by all the families who battle this terrible disease every day.

Much love and support to your family and friends who you have left behind – what unbearable and unimaginable grief they must be experiencing 🙁

I read about Aria's passing on Emerson's blog – I am deeply sorry for your loss. Rest in peace, beautiful little Aria.

I am so sorry for the passing of your little warrior, I will keep all in my prayers. I hope that PEACE finds you!

It's 2am Auckland time and I haven't been to sleep yet. Have you guys on my heart, praying for you as the reality of all of this hits your tired bodies. Praying about all the arrangements you are making.

Realised today the huge network of people you have been with in the USA and leaving them is going to be hard. I think of the amazing transplant team, ICU nurses and doctors, Moms and Dads of other kids you have loved, and local church over there. I pray for you guys as you start to say good byes to these amazing folk.

I pray that you feel loved and supported as you re-enter your life back in NZ. I pray that you will be allowed time to physically recharge and recover from all the sleepless nights. I pray that the Lord will outpour his richest blessings on you all.

God bless you today in Omaha.

Love JO

Your baby now has her wings so she can soar freely … no more pain, just flying free surrounded by peace and love. Our prayers are with you … may God give you strength to get through this difficult time…

So sorry for your loss. Aria was such an amazing little person with a brilliant personality. Thank you for sharing your journey with all of us. I'm so glad that she got the chance to eat & enjoy a bit of life as a kiddie. I will always remember her smile. We'll be thinking of you and your journey home x

While I'm thinking of it, can I also spare a thought for the wonderful Dr. Jean Botha. Although he obviously has a lot of sick children in his care, you could tell, I'm sure, that Aria was special to him. More than once, I am sure I saw tears in his eyes while talking about her, and I've no doubt he grieves with all of us here.

No words can express our sorrow and desolation…
We willed for Aria's recovery, yet the good Lord has given lovely Aria ultimate redemption…Rest In Peace, our cheerful cherub, until we meet again

No words, just lots of love. x
Neala, Ellis & Rowan

Heartbroken here in Texas…have been praying for family for years now. Thank you for your unwavering proclamation of God's goodness and grace.

I just read an article about Aria after randomly finding a link mentioned in someone else's blog. I couldn't help but cry after reading all she had to go through and all you and your family had to go through. I'm sincerely sorry for your loss, I'm sure she's in a nicer place now. RIP little Aria.

[…] ups and downs of Aria's journey via her website.  Sadly we arrived back in New Zealand to news that Aria had lost her battle.  A beautiful, courageous wee girl who touched many hearts […]

I like Your Article about Where, O death, is your victory? – Aria MacDonald Perfect just what I was looking for! .

You do not need to be wasteful & just throw all the revenue you have worked for down the drain. You also are not certain what the greatest way to save your revenue is. You don't genuinely want to ask people you understand, because instant payday loans no paperwork may come off as irresponsible, albeit they are most likely going by way of the same thing to. This piece of content will assist you out by giving you all the individual finance advice you could ever want.

Hurrah! At last I got a web site from where I can truly get
helpful information concerning my study and knowledge.

Gywnivere (or did you mean to spell it Gwynivere?),Thanks for sharing your opinions. Let's agree to disagree. This isn't a forum for religious debate.This website discusses faeries. If you think they don't exist, that we "make up" faeries, or that they're "devil spirits," you'll probably enjoy other websites far more than this one.Fiona
Leave a Reply
Support Aria
There are many ways that you can support Aria.
Bank deposit
Cheque by post
Contact us directly
Subscribe to updates
Fundraising progress
Aria's support to date:
Progress meter: 75%