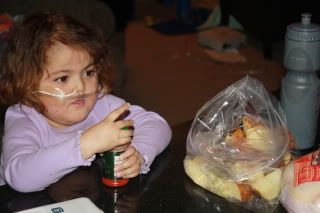 Aria is home and is doing really well.  A lot better than last week.
We had a really nice day at home.  PJ morning followed by a chilly trip to Target for some bits and pieces.  Aria helped me cook dinner this evening.  We made roast chicken and potatoes with asparagus and baby carrots.  She was a great helper.  It is so fun to see her sitting on our stools at the kitchen island.  When she first got home in July she didn't have the strength to hold herself and was too scared to sit, even when someone was holding her.  Now she sits and spins around and reaches over.  It's really cool.  She loves to cook.  She told us today she wants to be a chef or a pharmacist 🙂
19 Responses to "H-O-M-E"
Wonderful news, Aria is still looking so good too. Always in my thoughts and prayers.

So good that things are on the up again : )

That meal sounds yummy! Good food for Thanksgiving Day. (whenever it is, I seem to think it is in November! Really every day is Thanksgiving Day, specially when there is so, so much to say thank you for.

So happy you are all home together as a family. That is such good news. Thanking God and praying for continued strength for you all. Good girl Aria.

Such great news – and awesome career choices – in her own way she'd be highly qualified in both! She looks more and more like her Mum with each picture posted – beautiful:)

Praising the Lord with you all. God is sooooo goooood halleluia.

Gorgeous pic – go Aria! xx

Fab! Glad you are got a snippet of normal family life… Aria you look very pretty and I hope you enjoyed the chicken! X

Wow she is a bright cookie – a pharmacist? I can understand the chef but she is pretty clever to know about the other choice! So happy that you are home and enjoying just being a family!

Great news!

So glad you are home!

PJ mornings (days even) are great and roast chicken with everything is even better! God has certainly answered everyone's prayers in an incredibly positive way. It's great to see how Aria's little body, and especially her immune system, responds to these speed wobbles. We just keep praying that she will continue to take lots more steps forward than back. God has numbered her days, and they seem to be heaps more than anyone could imagine.

It's so good to hear that Aria is doing well! Pajama days are the best! Sounds like you had a great/fun day with Aria! I believe Aria can be whatever she sets her mind to. 🙂 She is such a determined, and smart girl! God Bless!

She would be great at either one!!!!! Or maybe even a DR!!!!! Love you guys!

PJ and a yummy roast! Sounds like a celebration meal to me! And what a lovely assistant chef. Praying you have a wonderful night's sleep now everyone is back together again.

Such good news!! What a lot we have to be thankful for! I can certainly see Miss Aria in either occupation. Hope it continues to work out to have you here Thursday for Thanksgiving!!!

That's wonderful news 🙂 We are so happy for Aria and she is looking well again 🙂 We are continuing to pray for Aria and the rest of your family too 🙂

Whatever career Miss Aria chooses she will set the world on fire with her style and determination. Dinner sounds like real comfort food. Can't go past a roast chook!! Yum. So glad you are all home and Miss Aria is spinning!!! Enjoy the aha moments you are having when you get them with your homelife and the normality. Hoping Disney trip can be back on the agenda soon. Xxxx

Miss Aria sure has come a loooooong way! 🙂 xxx
Leave a Reply
Support Aria
There are many ways that you can support Aria.
Bank deposit
Cheque by post
Contact us directly
Subscribe to updates
Fundraising progress
Aria's support to date:
Progress meter: 75%