Today is Thanksgiving Day in the US.  A holiday and a day of eating and thanking God for the things He has done.  AND it is also our 10th wedding anniversary!
So today is a cool day for us and we are celebrating.  Unfortunately not as we planned.  Both kids having coughs and temperatures and are generally under the weather.  We are of course disappointed, we had been invited to celebrate with Thanksgiving with Carol and Cordell and their family.  But the pavlova will still be decorated and thanks to a quick trip to Wholefoods for giant turkey legs we will still feast 🙂
We have so much to be thankful for.  Including the fact we actually had people to cancel Thanksgiving with!  We actually got a couple of invites to spend Thanksgiving with our friends but Carol and Cordell got in first LOL!!!  Praise God.
While Aria isn't in the best of health today she isn't dying like she was last year.  This time last year we hadn't even got funding.  This year we have received funding and again for another transplant.  Aria has lived.
Please pray for Aria's two donor families today, they are on our hearts.  Please pray for Aria and Asher that they might get better and that Aria will avoid hospital.
We are thankful for YOU!  The people that have loved and supported us this year!
The kids improved as the day went on.  Aria is pretty much on her normal o2 requirements and is looking really good.  Really hoping they improve overnight and no more temps!  We had a quiet day in front of the TV and hanging around the house.  We put up the Christmas tree too! Yes those are jandals/flip flops- are they cute? And yes that is Asher with a grumpy face- didn't want to eat lunch!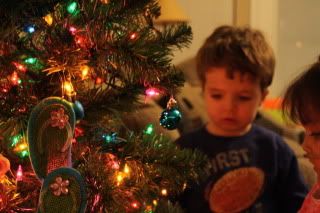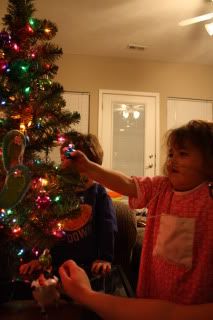 29 Responses to "Thanksgiving Day!"
Congratulations! Hamish and Anita – and Happy Thanksgiving.

Praise the Lord for His goodness to you all and congratulations on 10 years. May God be pleased to grant you many more.
Love the Bracefields

🙂

That is so special to be thanking God for 10 years of marriage right on thanksgiving day!
Have a great day together.

Congratulations on your anniversary! You two are a wonderful couple and you have a beautiful family. Praying for the kids (and for you two).
In His mighty love,
Carolyn O'Cain

Happy Thanksgiving for you and Hamish, for Aria and Asher, for the funding for the two ops, for the two donor families (special thoughts for them) for the Pike River Miners and their families, for the love of God and every blessing he has bestowed on us all.

Definitely prayers for now and lots to be thankful for this past year. I recall the anguish of last year, not knowing when you would be going to the USA, getting the funding and the state of Aria's health. There is so much to be thankful for when you see photos of Aria now, what a different girl she is.

Big congrats to you both for 10 years of marriage. Definitely a day to reflect, accept and give thanks for all that life has given you. Even though you would not have wished the trials and tribulations you have had to face. However these have made you who you are today and given you a different perspective on life now I am sure. XXXX

HAPPY ANNIVERSARY on this special Thanksgiving Day.Oh,yes we all have so much to be thankful for this year.God has been so good taken such good care of your special family. Last year our prayers were that you could get here and get the transplants Aria needed.Indeed we need to reminded of the gifts from the 2 donors that made all this possible. May God be with them as they remember their losses.If only they could see precious Aria today.

Happy Wedding Anniversary!!! 10 years is awesome!!
Had to get on Wikipedia this morning to look up what Thanksgiving was all about! 🙂 Probably should have known, but didn't (and as you know we don't exactly celebrate it here!!)
In any case, we too are most thankful to have seen Aria come so far over this last year!!
Loving those My Little Pony decorations!!!
xxxxx

Love the jandals on the Christmas tree. A little bit of Kiwiana. Gotta get me some of those!

Happy 10th wedding anniversary, Anita and Hamish. a big milestone. Thank God for all that He has done in Aria's life especially over the past year and praying that coughs and temps go away over night. Judy.

Congrats on your 10th Wedding Anniversary Hamish and Anita.
May the coughs and colds soon be gone.

Happy 10th Anniversary! Here's hoping your wee ones are better in the morning. Love and hugs xxx

happy anniversary! glad you guys had a relaxing day (: love the tree!

Happy anniversary you two – well done! Parying with you that Aria avoids hosp…xx

oops – *praying*

Wow that is a very nice colourful tree, looks like Ashie and Aria had fun decorating it, pleased they were able to enjoy a family day at home with their wonderful Mum and Dad. Love the decorations and that meal looks nice those sure are big chicken legs lol I know turkey legs. Sorry you didn't get to go to Carol and Corks, and praying that both Aria and Ashie are much improved tomorrow. Again Happy Wedding Annivesary you guys are awesome!!
Lots of Love xoxo

Congratulations Hamish & Anita on your 10th wedding anniversary – how awesome to celebrate it on Thanksgiving Day!
You are one amazing family and we continue to pray that the Lord will be your strength and that Aria will soon be completely healed.
I know you are all very special to lots of people around the world and we count it a priviledge to share in this part of your lives and uphold you in prayer.

Wonderful blessings and indeed much to be thankful for. I think Thanksgiving is such a cool idea. But it must be something about kiwis in USA at this time of year – when we were there Andrew came down with severe gastric flu, so we stayed home as well!!! Rejoicing with you for 10 years. Wow. Where have they gone! Our love

Happy happy anniversary you 2 and what a great day to celebrate it! thankd you for the beautiful snaps of your little blessings-God bless-Jeannie

To the super heroic amazing KIWI'S!
Following your lives through this newsletter is such an inspiration & an awesome testament to God. I look forward to reading about you all every day & keeping up with how Aria is doing. You're uplifted in prayer every day.
Many many blessings, & have a Happy wonderful Thanksgiving & Anniversary time together.
Loved the jandals on the tree! great idea!
Kiwi Carole & Miss American Bronte

So happy to hear that you guys ended up having a nice day! 🙂
Those jandals/flip flops are thongs here! Hahaha 😀

Great thanksgiving day for lots of blessings now and future and congratulation on your tenth anniversary Hamish and Anita. Pray the children will get healed quickly and avoid hosp. Father thanks for the parents of the little ones who gave dear Aria back extension of life. Thank you Father for healing her and Ashe of colds etc. Thank you Papa so much for granting them a wonderful celebration of our Lord's birthday amen.

Happy Anniversary 🙂 Sorry to hear Asher and Aria are not feeling so well but praying they will be back in tip top shape in no time and praying really hard that Aria will avoid hospital. The donor families are in our thoughts and prayers too 🙂 God bless all of you and Happy Thanksgiving 🙂

Congratulations on your 10th Anniversary! So to hear that both kids were not feeling well, but glad to hear they improved as the day went on! I'm also happy that you still had a great Thanksgiving Day, despite not being able to go to your friends' house. I love the pictures! Aria looks very excited about putting up the Christmas tree! Hope you have a great weekend! God Bless!

Congrats on the 10th anniversary and everyone is home to celebrate it! Sorry the kids are unwell and Thanksgiving wasn't able to be with your friends there. What about taking a raincheck and doing it once the kids are well????
What huge turkey drum sticks! I have never seem them that big before…and they look yummy!
Love the jandels. 3 cheers for kiwiana!

happy wedding anniversary wishes sent your way

praying

Happy anniversary you lovely people. The KETV news video is wonderful and Aria looks so incredibly well and lovely in it. You and Hamish just fill me with so much admiration. May God continue to bless you all.

colin mcrae 3 pełna wersja ,dirt 2 pelna wersja do pobrania,kod aktywacyjny do dead island,mnecraft 1.1 do pobrania za darmo,gry szczelaninki cda,pełna wersja zuma,minecraft pirat pobierz 1.1.0,pobierz minecraftsp pełna wersja 1.1,darmowe gry wedkarskie pobierz za darmo bez rejestracji,adca pierścieni bitwa o śródziemie 2 ściągnij,klucz produktu landwirtschafts simulator 2011,colin mcrae 3 pełna wersja ,dvr studio hd crack chomikuj.pl,minecraft crafting 1.1.0,jak ogladac filmy przez iphona na iplex,red alert wersja darmowa,minicraft graj,mapamap top 7.2.4 for lark,dsj 2 demo,worms armageddon download,mission impossible 4 online lektor pl megavideo,agrar simulator 2011 spolszczenie pl,colin mcrae 3 pełna wersja ,download gladormt2,chomikuj bitwa o śródziemie trainer 1.00,crack-acdsee 14,real video 4 allplayer download,too many items 1.2.1,vag com 311.2-n free,crack do croc 1 pobierz za darmo,worms armageddon pełna wersja peb,klient do xenox mt,barbie gry dla dziewczyn,colin mcrae 3 pełna wersja ,kozacy europejskie boje crack,kozacy bitwa o europe spolszczenie,samochód do minecraft 1.1,minecraft pirat 1.1 download chomikuj,automapa crack 6.9 pl chomikuj,rs wstyd (film 2011),gta san andreas wersja polska do pobrania,carmageddon do pobrania za free full version,dsj 2 z 37 skoczniami,ad muncher jaka alternatywa,colin mcrae 3 pełna wersja ,piosenki z big love pobierz,pełne spolszczenie do pes 12,escape download minecraft,film w ciemności patrzyć online,mody do minecrafta 1.8.1 chomikuj,dsj 4 full version cda,dsj 4 v.10.1 klucz,minecraft 1.1.0 dowload,czy mozna ogladnac na internecie fim i ze cie nie opuszcze,ip przedmiotów minecraft 1.1.0,
Leave a Reply
Support Aria
There are many ways that you can support Aria.
Bank deposit
Cheque by post
Contact us directly
Subscribe to updates
Fundraising progress
Aria's support to date:
Progress meter: 75%