Tonight an old friend came to visit Aria.  We remember this friend very well.  Aria said 'my pump from New Zealand' and stared it at in wonder for ages.  Yes this little gadget has been a faithful night time companion with Missy since she was 12 weeks old.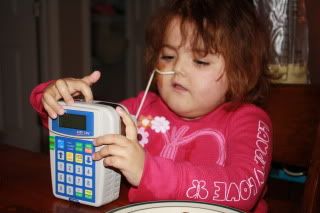 Yes this is Aria's wiggle juice pump AKA TPN pump.
No- don't worry Aria isn't back on TPN!  But she is requiring a IV bolus of fluids over the next couple of hours.  Unfortunately we were sent the wrong formula a couple of days ago.  Aria got the adult version of peptamen rather than the junior version.  Yesterday she had over 900mls out of her stoma in 12 hours!  Bad!!!  Hamish clicked to the mistake and we rang transplant at 10 pm last night.  Thankfully we had other peds formula on hand and switched to that overnight.  Sure enough the stooling slowed down.  Also thankfully she only got 3 cans of it.  Kicking myself hugely cause I unpacked the box and didn't even notice the difference in label!  Doh!!
But Aria got pretty dried out and dehydrated hence the bolus of fluid.  Hopefully she will be better tomorrow although she acted just fine all day apart from some headaches 🙁  As you can see, this is her being silly.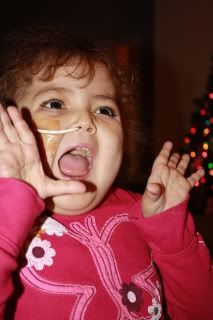 Oh and good news is we have been able to take Aria off her o2 during that day!  She is hanging out at 95/94% consistently!  So great to see her face without tubes on it!  It has been many weeks now, we were giving her 'free' cheek lots of kisses today.
16 Responses to "Reunited with an old friend"
Love the TV report…. what enormous changes we have all seen in Aria this past year, how amazing and awesome is that!!! xxxx

I remember feeding my son at triple the speed per hour luckily I cottoned on after four or five hours and lucky we had a mickey button I pulled out all the fluid. Felt sooooo bad. Go Aria no daytime time oxy what mile stone……you Champion of God!!!

Really enjoyed the video.It has been such a long journey for you all and to see how far Aria has come and all the doctors have accomplished is just a miracle. Only God could have had a hand in this. Everything in his good time. Even the organ donations at just the right time. Our prayers to this family who had to make the decision for Aria to live on with parts of their child.
What a witness of faith this has been for me for a year now and to see such a precious Aria doing so well and enjoying her cheese curls.

Great report, very well presented – we're just rapt!! God you are amazing and always SO faithful! xxxx

What a wonderful news story. It truly warms my heart.

oh i just love that face! go aria, stay in the 90's girl!

Loved the news story and seeing Aria looking so good. So many blessings. XXXX

Great to read the progress. We have been praying at Redeemer that she will not need the extra o2.
In Christ
The Bracefields

Glad to hear Aria is alright after all that! Great news about her being off the o2! Love the pictures! God Bless!

Aria looks fantastic!

Awesome! Lovely telly story too – and Missy looks more like her Mum with each picture we see:) Great to have a free cheek to plant kisses on!

Great news item re Aria on your local TV. I too can see how much Aria is looking like her mum!!

Wonderful news on Aria's progress and great video. Praise God for all his blessings on your family. Judy.

Great to see you all… lovely. X

Praising our Father with you MacDonald family, praise the Lord who will complete His miracle for us all to see and enjoy amen. Praise the Lord for the wonderful loving families who donated their loved ones for Aria, God bless them immensely, praise the Lord with you all amen!!!!!!!

So loved seeing the video, thankyou Anita and Hamish for sharing with us.
Leave a Reply
Support Aria
There are many ways that you can support Aria.
Bank deposit
Cheque by post
Contact us directly
Subscribe to updates
Fundraising progress
Aria's support to date:
Progress meter: 75%