You read that right, Aria's big achievement for today was spending about 7hrs breathing humidified room air!!
Our nurse today was keen to ween her oxygen and despite my reservations I agreed we'd give it a crack and she absolutely blew my expectations away. She didn't maintain 100% saturation, but she was well above the 92% acceptable minimum the whole time, well except when she got made at me for not putting her quite right in bed and decided she would tell me off and not breathe, funny girl.
The other big news for today is that when the Kidney Dr came in today she gave me the definite impression that her interest in Aria was over and that the only time she might say "Hi" to Aria anymore is when Aria is prowling the corridors on her walks and we happen to bump into her. Our nurse today hadn't heard that story so while I'm confident we are out of those woods for the moment, we will be eagerly looking for confirmation of this tomorrow morning. The reason for this is that Aria's urine output is going up, up, up and her kidney numbers are coming down, down, down.
Oh and I almost forgot she is getting a 2 hour window from her feeds so even more freedom!! Wow, things are flying along.
And just because I am jealous of all Anita's cool Photo posts, here are a few photos of the last couple of days.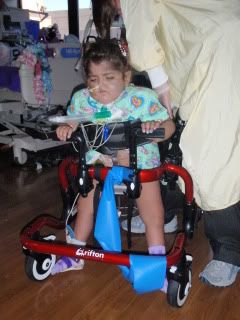 Aria in her walker!

Aria in a thoughtful moment, maybe preparing to write her memoirs.

Aria's hands, you can see how her colour is changing with time.

Aria on room air, at this point she only had one cord attached to her, her wound vac.